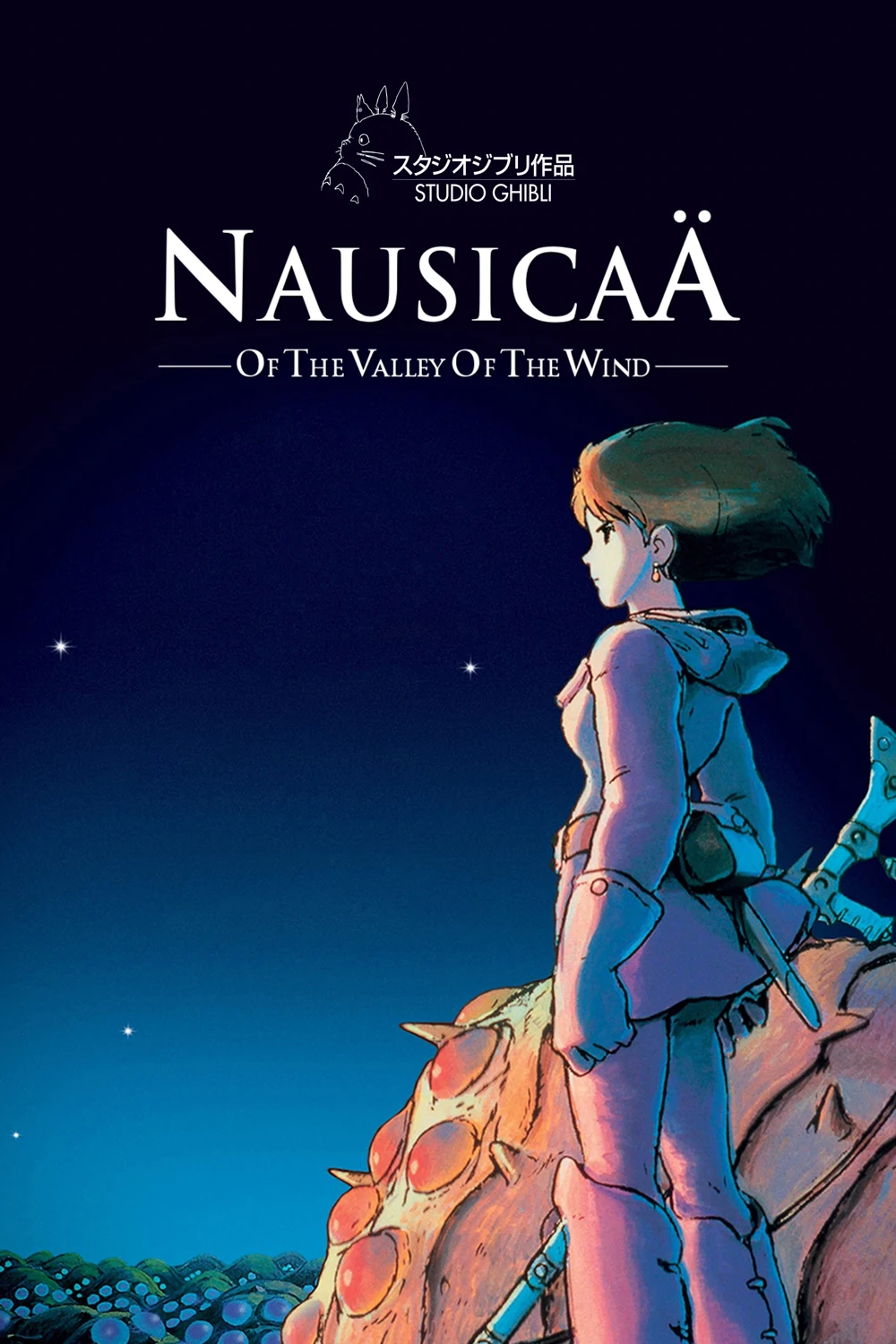 Nausicaa of the Valley of the Wind (1984)
Summary: This film tells the story of Nausicaä, Princess of the Kingdom of The Valley of the Wind from a time after a climatic war. This period, known as the Seven Days of Fire, has destroyed modern human civilization. The survivors have regressed to a variation of early 20th century technology, while at the same time facing extinction from the spread of toxic jungle and mutant insects. It deals with topics such as pacifism and environmentalism that will be the signature topics of many a Miyazaki film after it. 
Recommendation: This work introduced classic anime to America four years before Akira hit the theaters. The hard-working, high-flying, compassionate princess is a role-model for all kinds of reasons and we follow her adventure into nightmarish possibilities of war and cruelty. Thank goodness she fights to have her voice heard. As a science fiction epic, it rivals stories like Dune more than the typical children's animated movies one is used to. Its pacing and tone (ooh that soundtrack!) can be much for a small child so make certain to accompany viewing for explanations.
---
Castle in the Sky (1986)
Summary: Written and directed by Hayao Miyazaki, this is the first film produced by Studio Ghibli. It is set in a fictional late 19th century and follows the adventures of a boy and girl who are trying to keep a powerful crystal from the army, a group of secret agents, and a family of pirates, while searching for a legendary floating castle.
Recommendation: Airships exist alongside magic and spells. A fabled island in the sky has fascinated Pazu since his father's stories brought it to life. His humble existence as a mining town citizen is disrupted when aiding Sheeta, the kidnapped escapee pursued by air pirates and government agents alike. Her pendant reacts to words uttered in recitation of a spell and the chase is on. Can they work together to befuddle their pursuers and gain their freedom? Who is Sheeta really and how does her magic work? What does the legendary land of Laputa have to do with weapons of destruction? Who will find their way first to the heart of Laputa and its secrets? Are those secrets what anyone is expecting from the legends?
---
Kiki's Delivery Service (1989)
Summary: Thirteen-year-old trainee witch Kiki leaves home with her talking black cat Jiji. She flies on her broomstick to the port city of Koriko. While trying to find somewhere to live, Kiki is pursued by Tombo, a geeky boy obsessed with aviation who admires her flying ability. In exchange for accommodation, Kiki helps Osono, the kindly owner of a bakery. She opens a "Witch Delivery Business", delivering goods by broomstick – the "Witch Delivery Service".
Recommendation: Young witches in modern Japan leave their family homes to work elsewhere for a year, practicing their 'specialty' and surviving the everyday trials of growing up. Kiki is not extremely confident yet, but she faces hazards, challenges, and the occasional lack of work like anyone else. Bright, cheerful, and eager, she tries to take extra care of her clients and responsibilities with her flying skills as a delivery service. One boy in town seems to tease her, but he proves authentically enthusiastic about flight in all its permutations and tries to get to know Kiki who doesn't make it easy. It's fun, beautiful, light-hearted and fanciful. Kiki proves herself the hero she never imagined.
---